[Program] iGen Saskatoon Public Schools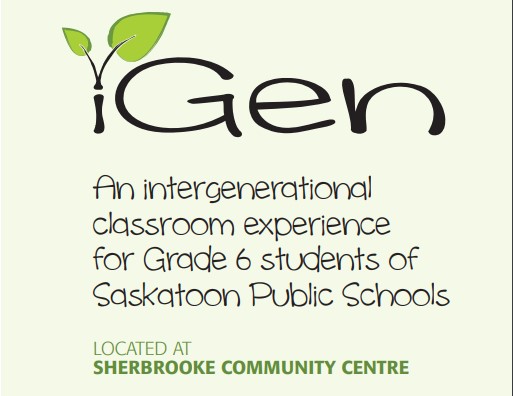 For more information please visit the following pages
https://www.saskatoonpublicschools.ca/program/igen/Pages/default.aspx#/=
https://www.saskatoonpublicschools.ca/Schools/elementaryprograms/igen/Pages/default.aspx#/=
https://www.sherbrookecommunitycentre.ca/about-sherbrooke/igen-intergenerational-classroom/
Saskatoon Public Schools and Sherbrooke Community Centre have partnered to offer the iGen program, which allows Grade 6 students to spend a full school year in a unique classroom experience at Sherbrooke Community Centre.
About 
iGen is short for intergenerational classroom. Grade 6 students selected from Saskatoon Public Schools spend one year in a unique classroom experience learning from and working with their teachers and Sherbrooke Community Centre residents and staff. Students in the iGen classroom learn the curriculum while spending time with those of different generations and with different gifts. Students are encouraged to find their own gifts and create relationships with peers and residents.
This is a learning adventure and an opportunity for students who are seeking a new challenge. Leadership and independent inquiry are foundational objectives of this classroom. Students who like to learn in diverse settings, enjoy hands-on experiences and education beyond traditional classroom walls will benefit. Further, students will have more opportunities to work one-on-one with engaged adults. Do you have gifts and talents you would like to explore? iGen is the place for you to grow and develop your interests while learning to care for and share with others.
Diverse Community
The iGen classroom is located at Sherbrooke Community Centre, a vibrant and caring home that provides housing, support and programming to individuals who are elderly or may require specialized care for disabilities or healthcare needs. Each day there are opportunities to engage in service learning and to receive the benefits of working with others. Students are registered at École College Park School and participate in some of the school's programming, including physical education, fine arts, band and extracurricular activities.