Call for Abstracts: 16th Global Conference on Ageing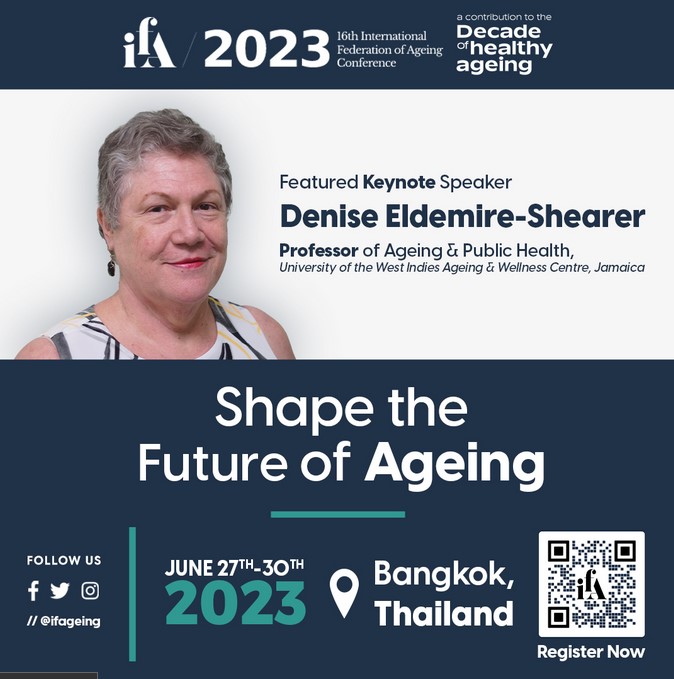 Challenge – Transformation – Change
27th – 30th June 2023, at the Bangkok Marriott Marquis Queen's Park in Thailand
Be a driver of change to help influence and shape policy that improves the quality of life of current and future generations of older people.
Important Dates
27 January – Last day of early-bird registration fees
28 April – Deadline: pre-conference masterclass/workshop submission
28 April  – Deadline: abstract submissions
27 June – First day of the 16th Global Conference
Keynote Speaker
The IFA Global Conference on Ageing will feature Denise Eldemire-Shearer, a renowned professor specializing in ageing and public health at the University of the West Indies Ageing and Wellness Centre Jamaica, as its keynote speaker. Prof. Eldemire-Shearer has been a champion for older persons and ageing issues for over four decades, dedicating herself to researching and working on policy initiatives that benefit senior citizens.
Her notable achievements include launching a National Policy for Senior Citizens in Jamaica in 1997, which focused on active ageing principles, the UN principles for older persons, and intergenerational activities.
Register Here
Learn More Here