[Impact Story] Sonya Fiorini's SuperWalk: Rallying for Egg-ceptional Parkinson's Awareness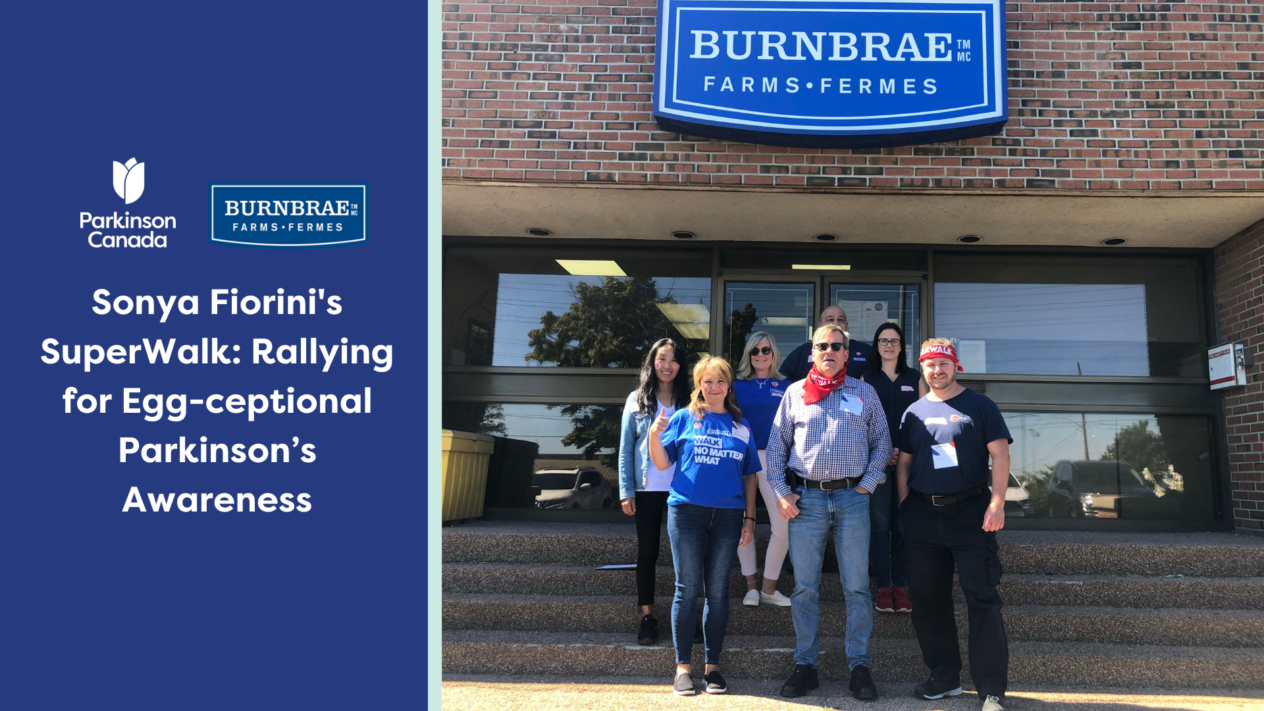 Sonya Fiorini, Director of Sustainability and Community Investment at Burnbrae Farms and Executive Director of The Burnbrae Farms Foundation, carries a story that speaks volumes. Her connection to Parkinson's is not just personal; it's a testament to her dedication in raising awareness and supporting the Parkinson's community.  
Her inspiration stems from her late grandmother, who battled Parkinson's for two decades. Her journey was one of resilience and determination. Sonya fondly recalls her active lifestyle, "She was a powerhouse. She didn't tell anyone she had the disease and was always keeping active.  It was only during her later years that the signs of Parkinson's became evident, with trouble swallowing and speaking." 
Despite the challenges of Parkinson's, her grandmother's love of life and the bond they shared left a mark on Sonya. Sonya's role at Burnbrae Farms has forged a significant partnership with Parkinson Canada.  
Exercise, eggs and brain health
Parkinson Canada's SuperWalk emphasizes the importance of physical activity in managing Parkinson's and sends a resounding message of resilience. Much like her grandmother's active lifestyle was instrumental in shaping her own journey with Parkinson's, the SuperWalk serves as a living tribute to the importance of staying active. Sonya emphasizes, "Being active and exercising is important to coping with the disease." 
Sonya also discovered a unique connection between Burnbrae's health commitment and the relationship between eggs and brain health. Notably, her grandmother included eggs as an essential component of her diet alongside an active routine.
A collective effort
Working closely with colleagues, Sonya and the team at Burnbrae Farms organize events that involve Corporate Social Responsibility Champions who mobilize employees. These volunteers rallied to inspire others and organized teams to participate in SuperWalk. Ultimately, embracing the cause, raising funds and awareness.
An impact beyond fundraising
SuperWalk is more than just a fundraiser; it fosters unity among diverse individuals, bringing them together for a shared cause. "I have many great memories over the years, colleagues in their SuperWalk t-shirts and in chicken costumes. The impact goes beyond the money it raises." 
As Sonya looks ahead, she envisions a future of continued collaboration between individuals, organizations, and dedicated partners like Burnbrae Farms in advocating for a cure. She aspires to support the cause further and enhance employee awareness. Sonya exemplifies the impact that individuals can have when they come together for a greater cause, "My grandmother lived with Parkinson's for years, and she never let it take control of her life. I think a lot of it comes down to having that support and focusing on mental health. It's not some doom and gloom sentence. You've got to have that drive, the people around you are cheering you on, and things like the walk—they're like these big bursts of encouragement. It's a reminder that we're all in this together, and that changes everything."
For more information about Burnbrae Farms' commitment to Parkinson Canada and their partnership, please visit https://burnbraefarmsfoodservice.com/en/ 
Join us in supporting Sonya and the Parkinson's community as we continue to raise awareness and inspire change
Find a SuperWalk in your area and register
Parkinson Canada's mission is to transform the lives of people living with Parkinson's across Canada. Articles like this represent our commitment to building awareness and providing resources and support for people living with Parkinson's and their care network.