[News] Canada and Ontario Support Seniors Housing in Kitchener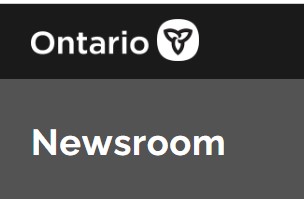 Kitchener, ON – The Government of Canada and the Government of Ontario are providing over $1.4 million to support the construction of 21 affordable housing units in Kitchener.
The Historic Saint Paul's Church project, located at 15 Church Street in Kitchener, will be a six-storey residential building with 48 units in total, including 12 two-bedroom units and 36 one-bedroom units. The units will be targeted towards low-income seniors in need of affordable housing. The building will feature barrier-free units with wider doors, lower switches, full access roll-in showers and roll-up sinks along with grab bars in the bathroom, and barrier-free kitchen modifications. Residents will also have convenient access to transit with bus routes nearby on Frederick and the Ion on Charles. Many of Kitchener's services and amenities are also within walking distance, including the renowned Victoria Park, which is just 250 meters away from the building.
This investment is made possible thanks to the Ontario Priorities Housing Initiative (OPHI), an initiative of the Canada-Ontario Bilateral Agreement under the National Housing Strategy.
Preliminary work began in early August 2023. These new affordable housing units will be a boost to the local community and a source of hope for many seniors.
Quick Facts
The Government of Canada's National Housing Strategy (NHS) is an ambitious, 10-year plan that will invest over $82+ billion to give more Canadians a place to call home.
The Ontario Priorities Housing Initiative (OPHI) is a program under the CMHC-Ontario Bilateral Agreement. This 10-year agreement provides more than $5.75 billion to protect, renew and expand community housing; support Ontario's priorities related to housing repair, construction, and affordability; and deliver direct affordability support to Ontarians who need housing. OPHI provides flexible funding to address local housing priorities and improve access to affordable housing options. The initiative helps to increase the affordable housing supply and improve the state of repair of community housing stock.
Quotes
"The Historic Saint Paul's Church project helps to create more safe and affordable homes for senior citizens in Kitchener. By supporting projects like this one, our government is helping seniors keep a strong and active presence in the communities they call home."
- The Honourable Sean Fraser
Minister of Housing, Infrastructure and Communities
"The Historic Saint Paul's Church project will bring more affordable homes to seniors in Kitchener and the Waterloo Region, allowing them to remain close to family and friends, and to thrive within their community. Thank you to all the community partners who are working diligently to get this project off the ground."
- The Honourable Bardish Chagger
Member of Parliament for Waterloo
"I'm proud to begin this next chapter as Ontario's Minister of Municipal Affairs and Housing. Our government's policies have delivered historic results in getting more homes built faster and addressing homelessness. Increasing community, affordable, and supportive housing is a critical component of our commitment to build at least 1.5 million new homes by 2031, which will help all Ontarians, especially our most vulnerable, find a home that meets their needs and budget."
- The Honourable Paul Calandra
Ontario's Minister of Municipal Affairs and Housing
"Projects like this are critical to the well-being of low-income seniors in the community – not just for its affordability, but for its functionality and accessibility. I'm honoured to be taking on the role of Ontario's Associate Minister of Housing and supporting life-changing initiatives like this one. I want to thank the City of Kitchener, the Region of Waterloo, and the Historic Saint Paul's Church for their partnership on this incredible project."
- The Honourable Rob Flack
Ontario's Associate Minister of Housing
"Creating affordable housing is a priority for all in Waterloo Region. This project shows what is possible when the community, local partners and government work together to achieve just that. Thank you to the congregation at St. Paul's and our federal and provincial partners for making this a reality, offering a safe, affordable place for so many to call home ."
- Jim Erb
Councillor, Region of Waterloo and Chair of Community and Health Services Committee
"Historic St. Paul's Church has been one of Kitchener's original faith communities in the heart of Downtown Kitchener. I applaud their congregation for choosing to live their faith through the provision of 21 much needed older adult affordable housing units within their existing church property. Today's announcement is another great example of the Ontario government working with municipalities like Kitchener and the Region of Waterloo to deliver 1.5 million additional housing units across our province."
- Berry Vrbanovic
Mayor of Kitchener
"For over 188 years the corner of Queen Street and Church Street in downtown Kitchener, has been the home of Historic St. Paul's Lutheran Church, serving its members and the community there since 1835. Our Community Cupboard program has provided clothing and food items to those in need for the last decade and a half. Today with thanks to our members, CMHC and the Government of Canada, The Province of Ontario, The Region of Waterloo and The City of Kitchener we are able to grow our mission to also include a new Affordable Housing Building with 57 units, to help those in need of housing."
- Josh Lavallee
Chairman, Historic St. Paul's Not For Profit Corporation
Additional Resources