[News] Manitoba Dementia Call to Action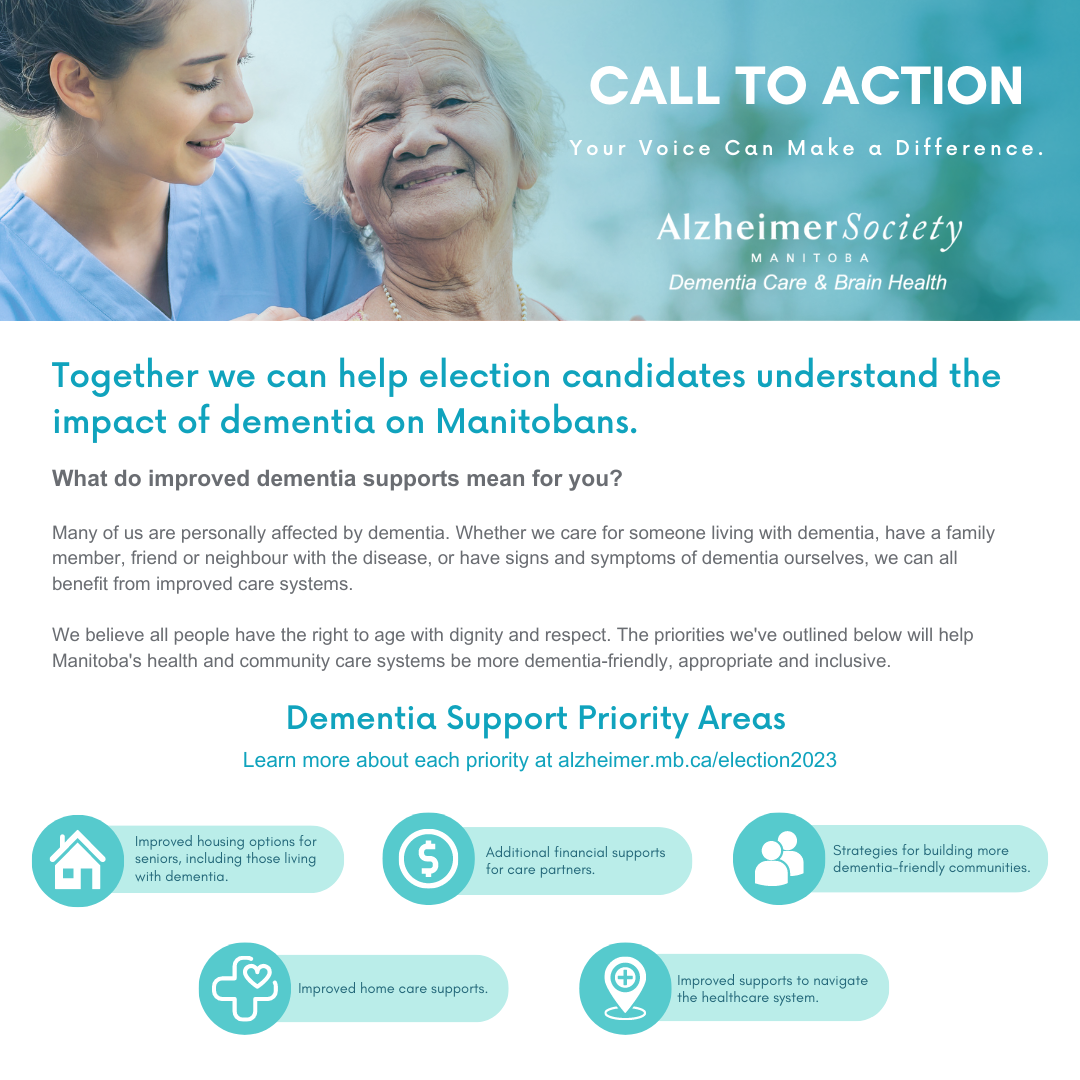 Together we can help election candidates understand the impact of dementia on Manitobans.
Manitobans vote in the next provincial election on October 3, 2023. Now is the time to talk to your local candidates about dementia care needs and how they can make a difference in the lives of people living with dementia and their care partners.
We've identified five priority areas where the Government of Manitoba can help families living with dementia:

Improved housing options for seniors, including those living with dementia.
As people living with dementia and their care partners progress through the disease, their housing needs may change as well. Having an adequate supply of quality housing options that are both affordable and include a range of services, ensures someone living with dementia can find a place to live safely and comfortably, and where they are treated with respect so that they can uphold the best possible quality of life.

Additional financial supports for care partners.
Living with a dementia diagnosis or caring for someone with one can be expensive. We are seeking improved financial supports for Manitobans living with dementia and their care partners so that expenses like the cost of additional respite services, the cost of home modifications or loss of income, have less of an impact on finances.

Improved home care supports.
Consistent, well-trained and reliable home care can support someone living with dementia to continue to live in their own home. We need to advocate for improved home care supports so that more Manitobans living with dementia can remain safely at home for longer. We are seeking a commitment from all parties to increase and improve home care supports across the province.

Strategies for building more dementia-friendly communities.
We need to continue educating our local businesses, communities and citizens about how to be supportive community members to someone living with dementia so that we can extend the time they are able to live in the community. We're looking to all parties for a commitment to implement and fund dementia-friendly community initiatives.

Improved supports to navigate the health care system.
The range of services within the healthcare, community and social services systems can make navigation of available expertise, supports and benefits difficult. Care partners exhausted by the demands of dementia may not have the capacity to navigate the various options. The Alzheimer Society assists, but more support is needed to make the pathways through the healthcare system easier to navigate so that care partners and people living with dementia can access the services they need when they need them without burden.
The Alzheimer Society is calling on all parties to commit to ensuring that the proper care and supports are in place to meet the needs of these Manitobans today and tomorrow. You can help by advocating and talking to your local candidates about what they plan to do to achieve all of the above priority areas for Manitobans affected by dementia.
Here's How You Can Help
Here are some ways you can raise your voice and help advocate for improved dementia supports and services:
1. Write an email or letter to candidates in your riding. You can download a fillable letter template here: Letter to Candidate – Fillable
2. Talk to canvassing candidates at your door
3. Request a one-on-one meeting with your candidates
4. Attend an all-candidate debate and ask questions
5. Spread the word/talk to your friends and family
Click the image below to view and download our one-page information sheet about our elections priorities & how you can help.