AARP Livable Communities – Technical Advisors Program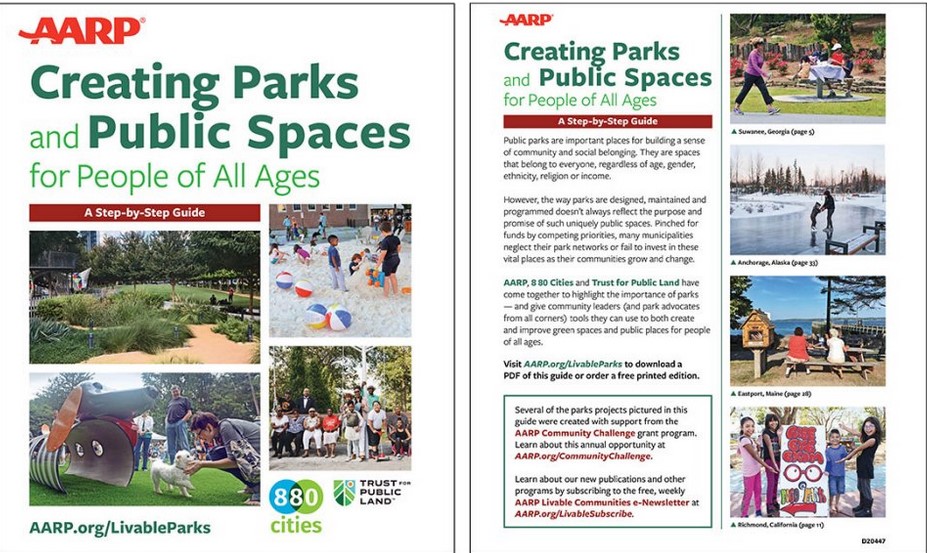 Public parks are important places for building a sense of community and social belonging. They are spaces that belong to everyone, regardless of age, gender, ethnicity, religion or income.
However, the way parks are designed, maintained and programmed doesn't always reflect the purpose and promise of such uniquely public spaces. Pinched for funds by competing priorities, many municipalities neglect their park networks or fail to invest in these vital places as their communities grow and change.
With the publication of Creating Parks and Public Places for People of All Ages: A Step-by-Step Guide, AARP Livable Communities, 8 80 Cities and The Trust for Public Land have come together to highlight the importance of parks — and give community leaders (and park advocates from all corners) tools they can use to both create and improve green spaces and public places for people of all ages.
You can download a digital copy or order a paperback edition of the guide for free on AARP's website.
Find other age-friendly community resources here
Subject Area

Housing
Age-friendly Communities
Education, Recreation, & Arts
Information, Referral, & Advocacy
Rural and Remote Communities
Safety, Security, Finances, & Personal Planning
Social Connectedness / Social Isolation
Transportation
Social Connectedness / Social Isolation
Safety, Security, Finances, & Personal Planning

Audience

Academics
Health Authorities
Caregivers, Seniors & Volunteers
Service Providers (Non-profits, Community Organizations, Local government)
Caregivers, Seniors & Volunteers
Government
Government
Service Providers (Non-profits, Community Organizations, Local government)

Category

Research & Evidence
Best Practices
Other Resources/Services
Rural & Remote Communities
Evidence-based & emerging practices