Non-Profit Leadership: It's all about Trust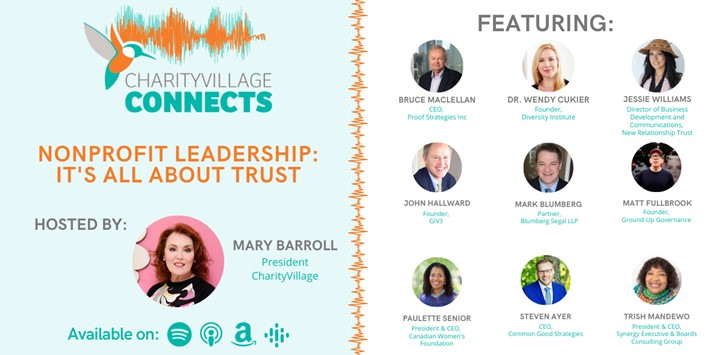 Reversing a historic decline in public trust in nonprofits and charities and advocating for a stronger future. 
Buffeted on all sides from seemingly endless waves of controversies and challenges, nonprofit leadership in Canada finds itself increasingly under the microscope. Public trust in the sector has reached new lows in recent years, and, with donations in decline and as the sector grapples with issues around transparency, accountability, and the lack of diversity at the highest levels, we're asking: Is it time for a leadership refresh in the nonprofit sector?
Tune in to this special episode to find out.
Meet Our Guests:
Bruce MacLellan, CEO, Proof Strategies
Steven Ayer, CEO, Common Good Strategies
Matt Fullbrook, Founder, Fullbrook Board Effectiveness
Jessie Williams, Director of Business Development and Communications, New Relationship Trust
Trish Mandewo, President and CEO, Synergy Executive & Boards
Paulette Senior, CEO and President, Canadian Women's Foundation
Dr. Wendy Cukier, Founder, Diversity Institute
Mark Blumberg, Lawyer, Blumbergs Professional Corporation
John Hallward, Founder, GIV3
Listen Here
Subject Area

Funding Development
Non-profit / Charitable sector
Safety, Security, Finances, & Personal Planning
Organizational Development
Leadership, Training, Coaching, Mentoring

Audience

Academics
Funders
Government (Politicians, Policy Makers) and Health Authorities
Service Providers (Non-profits, Community Organizations, Local government)
Caregivers, Seniors & Volunteers
Government
Health Authorities

Category

Best Practices
Policy, Planning, & Procedures
Organizational development
Leadership & Development