On Aging: Canadian Conversations - On Elder Abuse, with Marta Hajek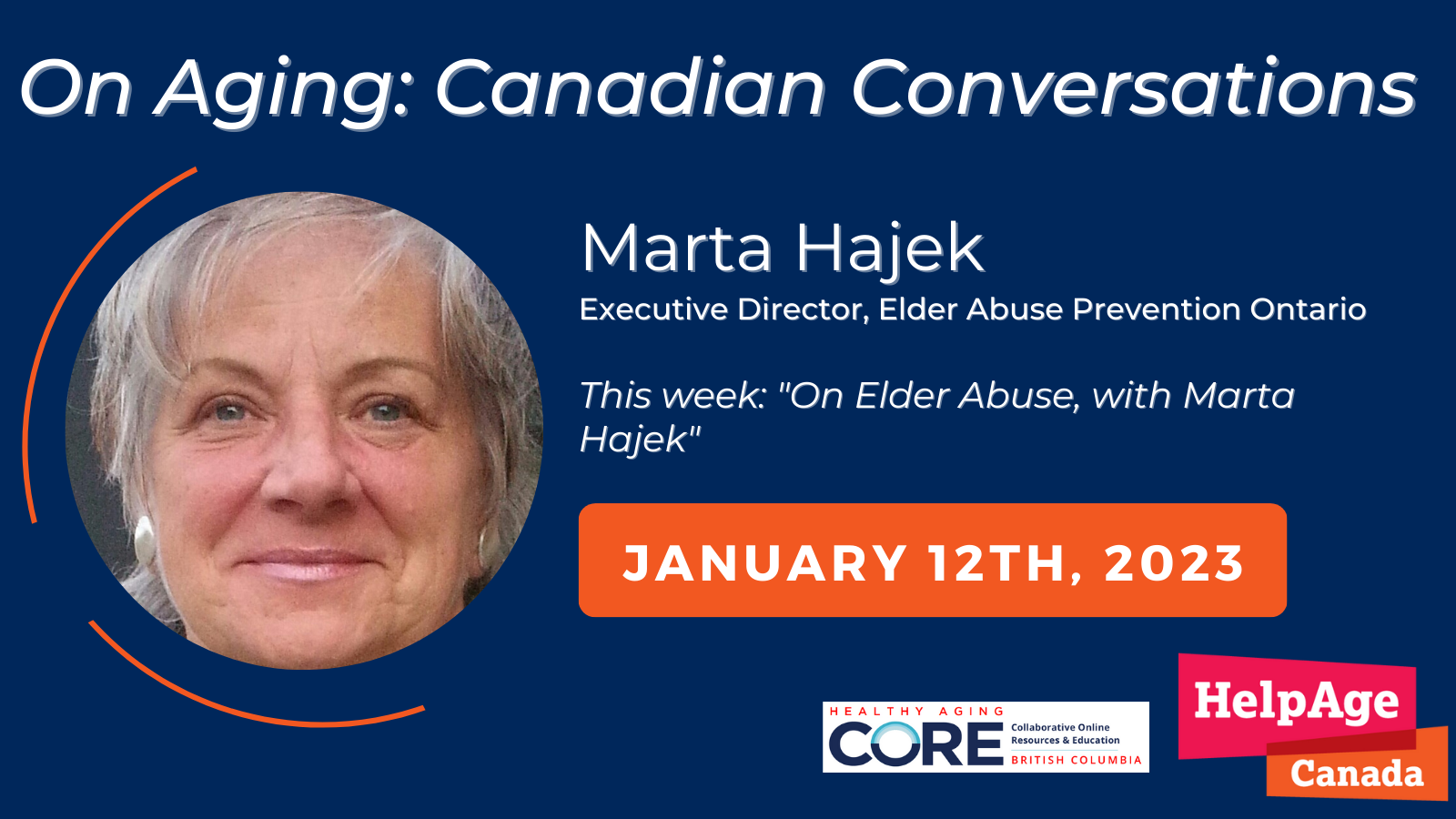 Marta Hajek is the Executive Director of Elder Abuse Prevention Ontario. Currently serving as the Executive Director of Elder Abuse Prevention Ontario, Marta has been engaged in EA Prevention since 2013. Prior to that, as Director of Operations, Marta helped coordinate the rollout of the ON211 I & R Service, now a National Initiative. With a career punctuated by increasingly challenging leadership roles, Marta's greatest fulfillment comes from engaging in human services and advocating for those who need a voice. Marta is poised to effectively not only advance the work of the organization, mandated by the Provincial Government, to implement the Strategy to Combat Elder Abuse, but to help raise awareness of the complexity of issues that undermine and challenge the safety and security of vulnerable seniors. Under her stewardship, EAPO continues to expand its circle of collaborative cross- sectoral partnerships, whether locally or across the Pan-Canadian spectrum, to support vulnerable or at-risk seniors.
Marta was appointed to the Ontario Securities Commission's – Senior Expert Advisory Committee in 2016, continues to serve on the Board of CNPEA (from 2017) and volunteers with several community-based projects. Whether championing protections for the financial security of older adults or advocating for the development and implementation of a National EA Prevention Strategy, Marta is committed to ensuring everyone understands the importance all of us, playing a role, in supporting seniors so they feel safe, respected and have a strong voice. Stopping abuse, restoring respect is NOT just a tagline! 
By breaking down silos and taking a more unified approach, Marta is convinced, we can amplify our voices to truly have a lasting and positive impact on the quality of life of older adults.
Marta holds degrees in Geology, Statistical Analysis and Linguistic-Cultural Studies. She consults with both corporate and non-for-profit organizations, conducting systems reviews, facilitating strategic action plans, optimizing operational capacity and forging new partnerships along the way.
An avid supporter of the arts, she engages her own classical music training to support youth, helping them optimize their performance skills, whether on stage or off. She is an opera aficionado, enjoys nurturing her garden oasis in downtown Toronto as a Butterfly Ranger with the Suzuki Foundation and on colorful autumn weekends, exploring and hiking the wilderness trails of Algonquin Park or Upper New York State.
Elder Abuse Prevention Ontario (EAPO) is the provincial organization recognized for its leadership in elder abuse prevention in the province, providing education, training, resource development and information about the increasingly complex issues of elder abuse.
EAPO engages and with over 30 local area Elder Abuse Networks across Ontario, to meet the unique needs of their local community in preventing elder abuse. EAPO collaborates to promote public awareness, deliver education programs and activities, develop resources and enhance awareness of local supports, services and available program that help older adults who are at-risk or experiencing abuse within their communities.
---
On Aging: Canadian Conversations - On Elder Abuse, with Marta Hajek
By

Healthy Aging CORE Canada and HelpAge Canada

Subject Area

General Health and Wellness
Safety, Security, Finances, & Personal Planning

Audience

Caregivers, Seniors & Volunteers
Health Authorities
Government
Caregivers, Seniors & Volunteers
Service Providers (Non-profits, Community Organizations, Local government)
Government

Category

Best Practices
Recorded webinar
Evidence-based & emerging practices