On gendered ageism and climate change, with Dr. Paula Rochon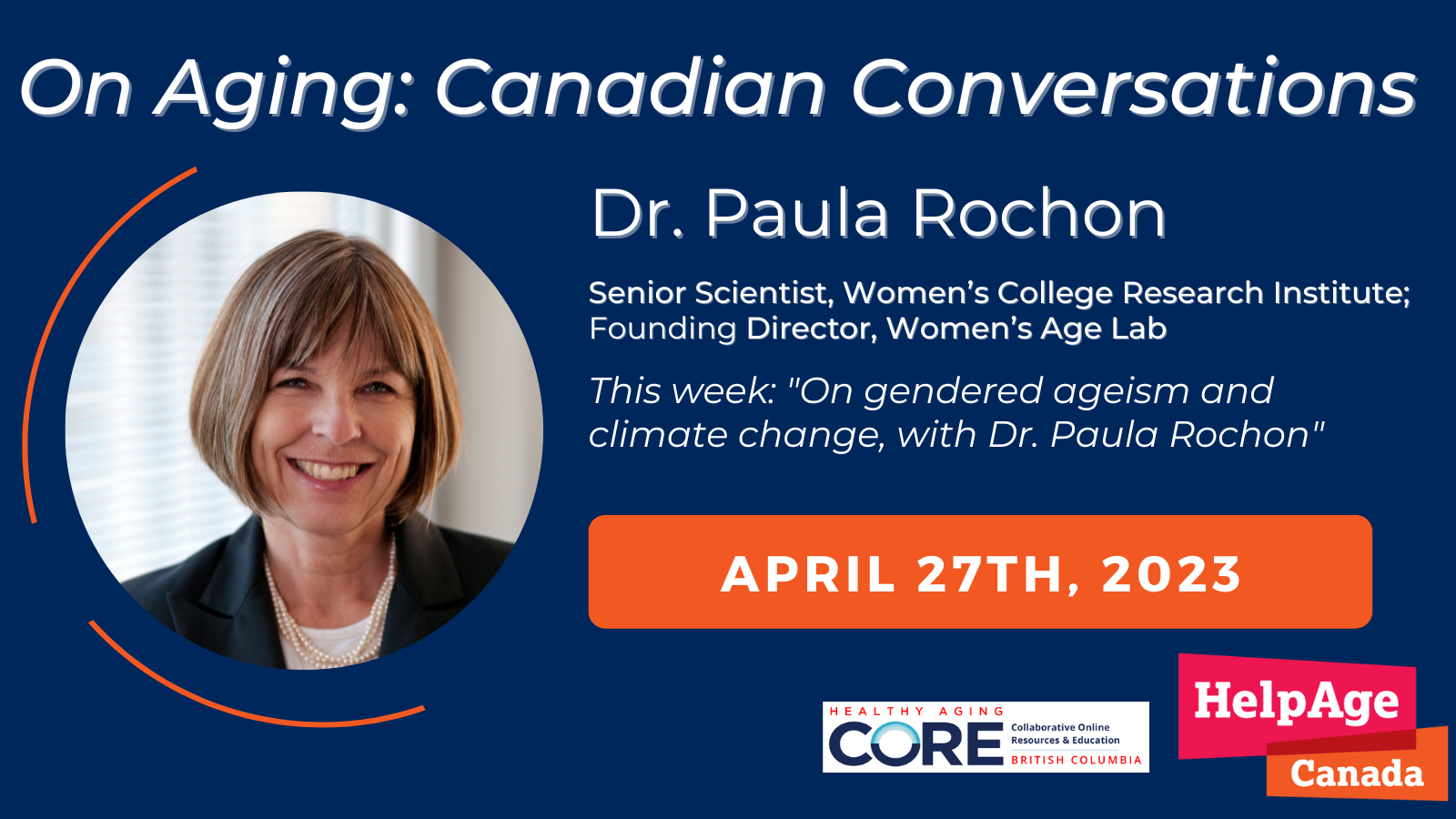 What happens to older people in the climate crisis?
In this wide-ranging conversation, Dr. Paula Rochon of the Women's Age Lab talks about how the specific needs of older people, especially older women, are often forgotten in the scientific community, and what her team is doing to change that.
PAULA BIO: Dr. Rochon is Founding Director of Women's Age Lab, a geriatrician and senior scientist at Women's College Hospital and ICES. She received her medical degree from McMaster University and Master of Public Health from the Harvard School of Public Health. Dr. Rochon is a professor in the Department of Medicine at the University of Toronto (UofT) and is the inaugural RTOERO Chair in Geriatric Medicine at UofT. She is a Fellow of the Canadian Academy of Health Sciences and a Fellow of the Canadian Geriatrics Society (FCGS).
Dr. Rochon has a strong record of federal funding and has published more than 300 papers in peer-reviewed journals. She held the role of the Vice President of Research at Women's College Hospital for 12 years. Dr. Rochon chairs the Canadian Institutes for Health Research (Canada's federal funding agency) Institute of Aging Advisory Board to support research and promote healthy aging across Canada. She is the Deputy Editor of the Journal of the American Geriatrics Society (JAGS). She was a member of the Ontario COVID-19 Science Advisory Table, when it was active, where she chaired the Congregate Care Setting Working group.
She has received research distinctions, including being elected to the Canadian Academy of Health Sciences in 2013. She was awarded the Eaton Clinical Researcher of the Year Award from the University of Toronto in 2020, the Eugenie Stuart Award for the Best Thesis Supervisor from the University of Toronto, Institute of Health Policy, Management and Evaluation, in 2022, and the President's Impact Award for Excellence in Research from the University of Toronto in 2023.
Dr. Rochon is committed to the development of trainees and new investigators in aging research and making valuable contributions to our future understanding of aging. Her team has won prestigious research awards, presented across Canada, and published in peer-reviewed academic journals, disseminating key learnings and important findings from their research projects.
---
On gendered ageism and climate change, with Dr. Paula Rochon
By

Healthy Aging CORE and HelpAge Canada

Subject Area

Ageism
Safety, Security, Finances, & Personal Planning

Audience

Academics
Funders
Government (Politicians, Policy Makers) and Health Authorities
Service Providers (Non-profits, Community Organizations, Local government)
Health Authorities
Government
Caregivers, Seniors & Volunteers

Category

Recorded webinar
Advocacy