[Resource] Canada-Wide Elder Abuse Network Locator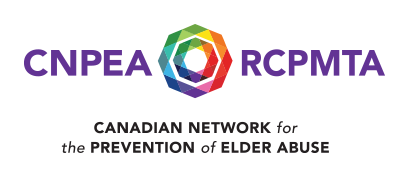 Click HERE to find Provincial and Territorial Elder Abuse Networks
The Canadian Network for the Prevention of Elder Abuse (CNPEA) is a national non-profit organization dedicated to preventing the abuse of older adults in Canada. It is a collaborative network that brings together individuals, organizations, and communities to promote awareness, education, and effective strategies to address elder abuse.
CNPEA works towards the prevention of elder abuse by facilitating information sharing, research, and advocacy. The organization promotes collaboration among professionals, researchers, and policymakers to develop innovative approaches and best practices in addressing elder abuse. CNPEA also provides resources, training, and support to individuals and organizations involved in elder abuse prevention and intervention.
The network focuses on various forms of elder abuse, including physical, emotional, financial, and sexual abuse, as well as neglect and systemic abuse. CNPEA aims to raise public awareness about the signs and consequences of elder abuse and promotes a rights-based approach to elder care.
Through its initiatives, CNPEA aims to empower older adults, their families, caregivers, and communities to recognize and respond to elder abuse effectively. The organization also advocates for policy changes and improved legislation to protect the rights and well-being of older adults in Canada.
Subject Area

Safety, Security, Finances, & Personal Planning

Audience

Caregivers, Seniors & Volunteers
Service Providers (Non-profits, Community Organizations, Local government)