[Resource] Prevention of Suicide in Older Adults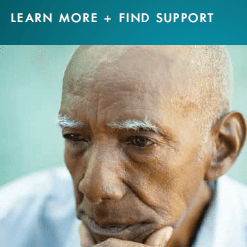 Suicide Risk and Prevention of Suicide
Older adults, men in particular, have among the highest suicide rates in the world (WHO, 2014).
Approximately 1,000 older adults are admitted to Canadian hospitals each year as a result of intentional self-harm.
Many factors can contribute to suicide in older adults. These include mental illness, divorce, bereavement, lack of social support and problems with physical health or finances.
Tools for Seniors and Families:
Prevention of Suicide in Older Adults
Available in English, French, Punjabi, Traditional Chinese and Simplified Chinese
By

Canadian Coalition for Seniors' Mental Health

Subject Area

Mental Health and Wellness

Audience

Caregivers, Seniors & Volunteers
Service Providers (Non-profits, Community Organizations, Local government)