[Resource] Strengthening community connections: the future of public health is at the neighbourhood scale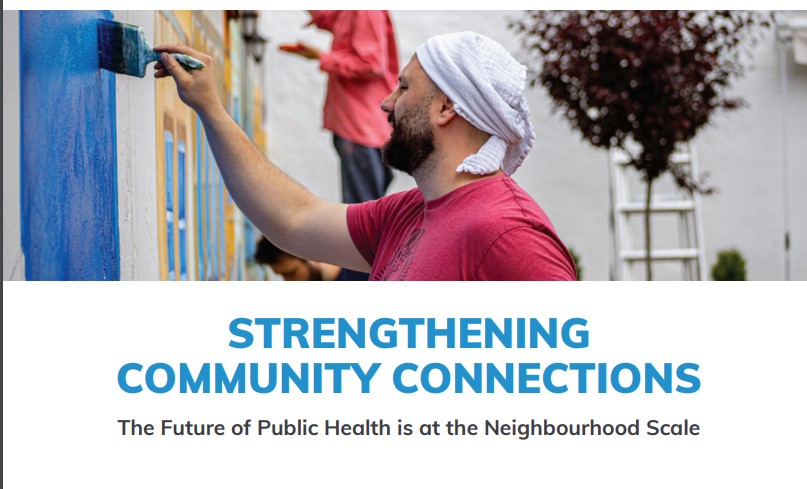 Community-led action at the neighbourhood scale has been vital to address complex health inequities during the COVID-19 pandemic in Canada. This report was commissioned by the Office of the Chief Public Health Officer (CPHO) at the Public Health Agency of Canada, to inform the Chief Public Health Officer of Canada's Report on the State of Public Health in Canada 2021: A Vision to Transform Canada's Public Health System. 
Four key actions by which public health in Canada can more fully incorporate and support the capacity of communities to take more control over the conditions for their own health and wellbeing are identified. The four actions are: strengthen and invest in the work of community health and wellbeing at the neighbourhood scale; ensure accountability for community involvement in governance and decision making; build community and equity into new data architectures; and confront structural and historic barriers to systems transformation. This 35-page report describes World Health Organization models for health systems, outlines specific steps to help realize the four recommended actions, and shares case examples from across Canada. 
Use this resource to: 
Understand the contributions of community organizations to public health in Canada 
Identify the core components of the World Health Organization's model of comprehensive primary health care 
Learn about different approaches to community engagement and community governance 
See how equity data can be used in ways that are transparent and accountable to the most-impacted communities 
Recognize the roots of community exclusion in historical and colonial practices, and see how organizations are addressing them with anti-oppressive practices 
Gain appreciation of the need to build systematic relationships with a well-resourced community sector. 
There is also a summary report available.
Summary Report
Related Resources:
Reflections on the relationship between public health and primary care (2021)
Establishing a new interface between public health and primary care: A curated list (2021)
Measuring what counts in the midst of the COVID-19 pandemic: Equity indicators for public health (2020)
Canada's Chief Public Health Officer 2021 Report and Associated Commissioned Reports (2021)
Reference
Mulligan K. Strengthening community connections: the future of public health is at the neighbourhood scale [Internet]. Toronto (ON): University of Toronto, Dalla Lana School of Public Health; 2022 [cited year mon day]. 35 p. Available from: https://nccph.ca/projects/reportsto-accompany-the-chief-public-health-officer-ofcanadas-report-2021/strengthening-communityconnections-the-future-of-public-health
Subject Area

Age-friendly Communities
General Health and Wellness

Audience

Academics
Service Providers (Non-profits, Community Organizations, Local government)
Government (Politicians, Policy Makers) and Health Authorities

Category

Best Practices
Research & Reports
Research & Evidence