Elder Abuse Interventions: Reducing Harm & Building Connections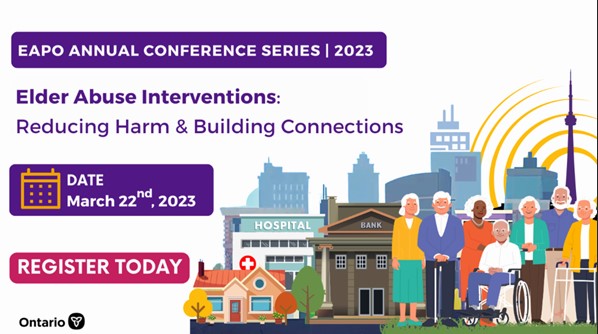 EAPO invites you to attend our FREE Virtual Conference Series on Elder Abuse Interventions: Reducing Harm & Building Connections being held on March 22nd from 6:00am - 1:00pm (PDT)
Join leading Provincial and Regional Experts who will share their expertise and knowledge on best practice intervention models, programs and supports through interactive panel discussions and demonstrations of new resources and on-line tools for older adults and service providers to support victims and prevent abuse.
Conference delegates also have the opportunity to network directly with other colleagues and speakers through the interactive features on the event platform.  
EAPO successfully hosted the first session of our Virtual Conference Series -"Risk Assessment of Older Adults: Practical Tools for Early Detection and Intervention of Elder Abuse" on January 31, 2023 with over 520 participants enjoying a new platform, where they met regional, national and international keynote speakers. View the recordings and presentations on our Archived Conference webpage here.
While the series is without cost to participants, we encourage everyone to REGISTER EARLY to secure a spot.
Preliminary Glimpse of Speakers 
David Burnes, Ph.D. - Associate Professor, University of Toronto, Factor-Inwentash Faculty of Social Work 
Graham Webb - Executive Director, Advocacy Centre for the Elderly (ACE) 
Judith A Wahl - Legal consultant and speaker, Wahl Elder Consulting
Margaret MacPherson - Research Associate, Centre for Research and Education on Violence Against Women and Children (CREVAWC), Western University 
Amber Wardell - Learning and Development Coordinator for the Ontario Association of Interval and Transition Houses (OAITH)
Nadine Wathen, PhD -  Professor and Canada Research Chair in Mobilizing Knowledge on Gender-Based Violence, The Arthur Labatt Family School of Nursing at Western University, and Academic Director of the Centre for Research on Health Equity and Social Inclusion
Yonit Fuhrmann - Deputy Director, Pro Bono Ontario 
Samantha Kim - Vulnerable Seniors Lead, CMHA Waterloo Wellington
Katherine Studiman - Registered Social Worker, Community Addiction and Mental Health Services – Haldimand Norfolk, Mobile Crisis Response-Norfolk OPP 
Shalini Konanur - Executive Director, South Asian Legal Clinic of Ontario (SALCO)
Joanne Riley - Registered Social Worker, Home and Community Care Support Services, Senior Support Team, Waterloo Wellington
Erik Bornmann - Director, Guided Pathways, Community Legal Education Ontario (CLEO)
Amelia Berot-Burns - Guided Pathway Project Coordinator & Analyst, Community Legal Education Ontario (CLEO)
Organizer

Elder Abuse Prevention Ontario

Location

Date

(PDT)

This event has passed.

Time (PDT)

6:00 AM - 1:00 PM