Healthy Aging CORE Research Spotlight - April 2023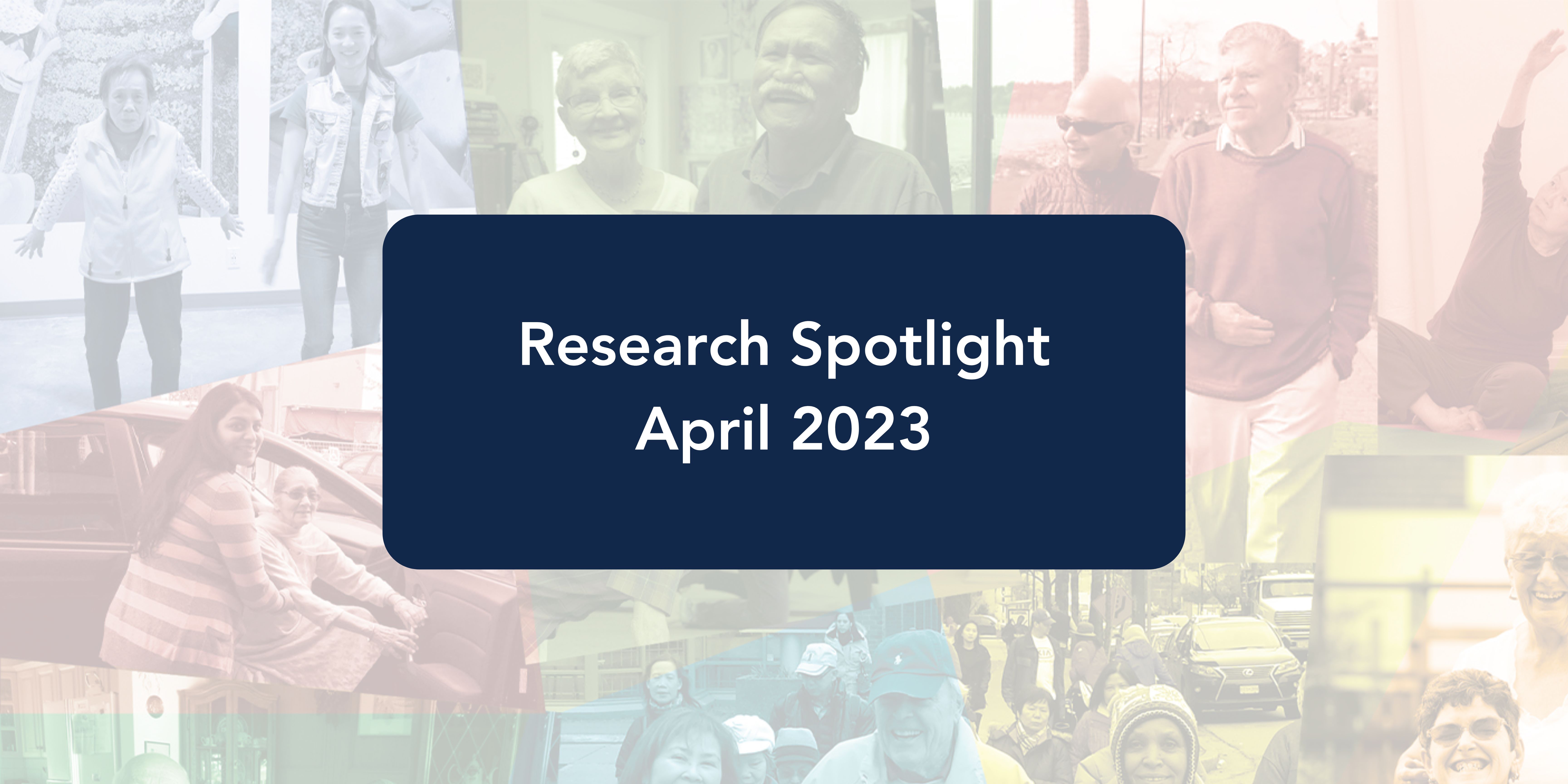 Research Spotlight: CIHR Institute of Aging Strategic Plan
The CIHR Institute of Aging is one of thirteen Institutes of the Canadian Institutes of Health Research (CIHR), Canada's federal agency that funds health research. Their mandate is "to support research, to promote healthy aging and to address the causes, prevention, screening, diagnosis, treatment, support systems and palliation for the complex health challenges that can be present in older individuals." The CIHR Institute of Aging has launched a five-year plan to reframe what it means to age, refocus on the value of lived and living experiences and reposition health care and supports to empower older adults to live vibrant, healthy lives at every stage.
As Canada supports demographic changes, a rapidly growing older adult population and post-pandemic recovery, research is needed now more than ever to advance our understanding of what comprises health in aging and to implement effective models of care through integrated care systems. Aligned with CIHR's vision to achieve the best health for all, the CIHR-IA Strategic Plan 2023-2028 lays out a path to foster research that will achieve equitable health outcomes and enable healthy aging for all older Canadians.
CIHR-IA's Strategic Plan 2023-2028 is available in French and English.


New Research Reports on CORE


New Journal Articles
Open Access Articles
Articles that are free and accessible to the general public.
Chamberlain, S., Savage, R. D., Bronskill, S. E., Griffith, L. E., Rochon, P., Batara, J., & Gruneir, A. (2023). Retrospective cross-sectional study examining the association between loneliness and unmet healthcare needs among middle-aged and older adults using the Canadian Longitudinal Study of Aging (CLSA). BMJ Open, 13(3), e068769. http://dx.doi.org/10.1136/bmjopen-2022-068769
The authors of this study utilized data from the Canadian Longitudinal Study on Aging – a large national study with over 44,000 community-dwelling participants aged 45 and up – to examine the association between loneliness and unmet healthcare needs. The authors found that lonely respondents had higher odds of having an unmet healthcare need than non-lonely respondents. This suggests that people who are lonely may encounter barriers when trying to access health care services.
Fraser, C., & Collins, P. (2023). Rooming with Seniors: Investigating Demand for Intergenerational Home-Sharing Arrangements Amongst Students at a Canadian University. Journal of Intergenerational Relationships, 1–24. https://doi.org/10.1080/15350770.2022.2161688
The authors of this study conducted a survey of over 3,800 university students to assess their interest in intergenerational home-sharing. Only 15% of the students had considered intergenerational home-sharing. Interest in intergenerational home-sharing was associated with having experience working or volunteering with older adults.
Mills, C. M., Keller, H. H., DePaul, V. G., & Donnelly, C. (2023). Nutrition risk varies according to social network type: data from the Canadian Longitudinal Study on Aging. Family Medicine and Community Health, 11(1), e002112. https://doi.org/10.1136/fmch-2022-002112
Mills and colleagues analyzed data from over 17,000 participants aged 45 and up from the Canadian Longitudinal Study on Aging to identify if a person's social network is associated with their level of nutritional risk. The authors found that individuals with restricted social networks (i.e., few network members, living alone, low levels of social support, etc.) were more likely to be at nutritional risk.
Nettlefold, L., Gray, S. M., Sims-Gould, J., & McKay, H. A. (2023). From Start-Up to Scale-Up of a Health-Promoting Intervention for Older Adults: The Choose to Move Story. Kinesiology Review, 12(1), 76-86. Retrieved Apr 21, 2023, from https://doi.org/10.1123/kr.2022-0034
The Active Aging Research Team has spent the last two decades learning how best to apply implementation science concepts, frameworks, and evaluation approaches to health-promoting interventions. In this narrative review, they tell the story of Choose to Move (CTM) – an effective health-promoting intervention for older adults – and illustrate how over they have scaled up CTM across the province of British Columbia. 


Research Participation Opportunities
Survey: Older Adults Needed For Research on Chronic Pain
The University of Regina's Aging, Residents & Caregivers (ARC) Research Unit in the Department of Psychology is currently recruiting participants for a study involving older adults living with chronic pain. Click here for more information.